Piano books for kids and their cognitive development is essential. Your kid will always remember his first piano book later in his life as a pianist. At some point, this book will make or break his future in playing the instrument. Of course, the matter also depends on your guidance.
Getting your kid's attention to play the piano is one challenge to learn as a parent. Kids get distracted easily. Some kids even find these lessons boring, difficult, overwhelming, and some prefer high-energy activities. But learning this instrument needs focus. For this reason, you must ensure that your kid catches interest the moment he touches his first piano book.
Related: Is your child just starting out to play the piano? Learn more about beginner piano books for kids.
Reasons to buy a piano book
To keep you and your kid on track
Creative ways to learn piano
Piano books are products of experience, knowledge, and proven theories.
Your kid takes pride in progress.
A ready guide that your kid can always refer to and open
What Should You Look for In a Piano Book?
Visuals: Graphics and illustrations

Books with great visuals always engage kids. The illustrations of animals and kid-appropriate images will always hook their attention. Pick ones with clear printed images and text if possible.
During this stage, kids are still developing visual literacy. Especially for kids under 6, the visuals should be attractive, colorful, and playful. Generally, visuals help kids analyze more of the image and teach scales and notes creatively.

Easy-digestible lessons

We do not aim for kids to learn fast in their first lessons. They should understand the basics and concepts: scales, aural training, sight-reading, and so on. Every page should be easy to chunk out, and not all information should go into one page. The key is to teach one thing at a time and practice.

Creative techniques to learn new music and piano skill

Get a kid-friendly book filled with creative ways to learn one little skill after the other – because the book may be teaching theories, and we want them to become barely noticeable. However, at times, you have no idea what the book offers until you read it. It pays to check online feedback.

Material

For kids, you want them to learn piano gradually. If you are going to browse these book types, you'll often find them in series. Each book of a series aims to develop a set of skills. Because focusing on one lesson would always be a struggle, you need a material tailored to focus on developing a skill slowly.

Exercises and interaction

Just like any other learning book, there should be exercises to practice what your kid has learned. A good kid's piano book can use games to measure a kid's learning. What the kids want is interactive learning where they can participate, think, play, learn, and receive recognition for each progress.
Not all beginner piano books are appropriate for kids' consumption
Some books fit better for young adults or adults, and not for kids. You can usually take a hint from the cover and the title, but your last option is the book summary. If you're ready to make a purchase, here are the best piano books for children that his piano teacher would likely recommend.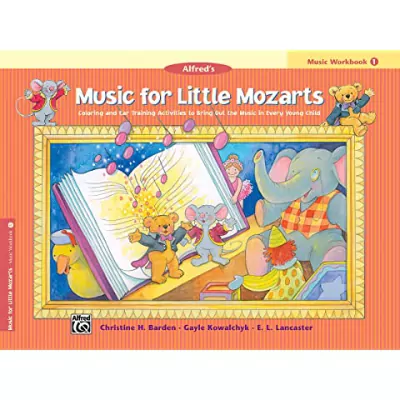 Here's a creative set of beginner piano books for kids four to seven years old. The book aims to teach rhythm, finger movement, note reading, and ear training. It features the story of Mozart Mouse together with Beethoven Bear. Other characters also go by the name of famous and recognized composers.
The story starts with the two lead characters, Mozart and Beethoven, sneaking to see the house where children learn piano lessons. This stage carefully molds your kid's skills. See, the book also comes with midi accompaniments to practice with music.
Some of the activities in the workbook are:
Drawing lines to match notes
Coloring keys
Clapping and counting to recognize intervals
Guessing the rhythm
Key positions of C
Coloring notes such as A,B,C,D,E
The curriculum has four levels, and it will get your kids to play the keys.
The first level kit includes the Lesson Book, Workbook, and Discovery book. The kit also has plush toys and flashcards, so you'll engage as a parent all through the process.
It's friendly for parents who'd like to teach their kids piano, but teachers would also appreciate the entire course, even it is a bit slow. Besides, they are just kids, and they need to have fun while learning, right?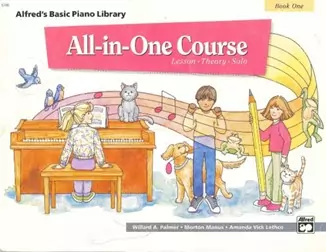 Parents who play the piano will recognize this book. For many of them, this is the staple that taught them to play the instrument when they were kids. Alfred geared this book towards learning piano in the most comprehensive yet interesting way. Although the illustrations are a bit old, they still work teaching kids 7 years and above the black and white keys.
There is a gradual shift to introducing notes and lines in treble and G clef. The book also introduces the students to sharp and flat signs. Although it seems to introduce a lot of skills, the book is intelligently comprehensive, making it a popular choice by piano teachers.
What it teaches:
Finger placement (with the keyboards)
Simple rhythms
Reading music (with interesting music sheets)
Reading and playing with the hands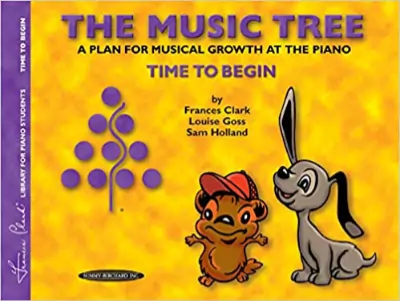 This book aims to teach kids musical concepts: notes (higher, lower, half, and quarter notes), intervals, time signatures, F clef, and G clef. The curriculum is not only useful for teachers but is also for parents teaching piano.
To introduce the kids to these concepts, it utilizes drills, games, and puzzles.  One of these activities lets students play two or three keys in descending or ascending succession. Starting with only two fingers, students will learn to utilize up to four fingers at the end of the book.
To learn rhythm, the student may swing his arm or tap fingers for each beat. The book uses verbal or poetic chants on the first to the fifth unit, which the book replaces with time signatures in the 6th unit. Some activities include marking or naming the keys.
The book introduces new concepts by cute characters, which you see on the cover of the book.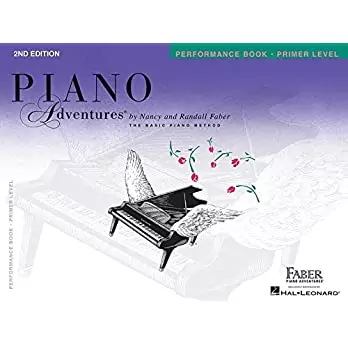 If you are looking for a Nancy and Randall Faber material that suits your kid of 5 to 6 years old, this book will get your kid to play the piano. Especially if you think your child gets too overwhelmed quickly with course lessons, it teaches the most basic skills in playing the piano: learning sounds and white and black keys.
Learning music by the ear is a significant skill to develop and become a true musician.
It features five characters that introduce skills one-by-one. The book tries to catch a kid's attention with fun exercises, colorful illustrations, and lively and fun songs. One thing to note about this book is that your kid will surely have a blast while learning because he doesn't have to drudge with learning the basics. This book has creative ways to teach the fundamentals and then prep him up for staff-reading, which is continued on this set of beginner piano books for children, Lesson Book B & C. The book focuses on ear and eye training, which introduces them to proper posture, basic rhythms, finger placement, and key names. It comes with a workbook and a CD to guide you with the activities like tapping, singing, listening, and playing with the piano.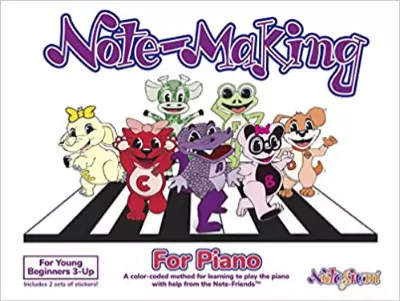 An essential skill in playing the piano is hearing ability. Note-Making for Piano aims to teach students music as a language. This book will train your kid to distinguish sounds like they were his native tongue. Learning music by the ear is a significant aspect of becoming a true musician.
While other piano books focus on reading notes, this one will teach your kid to identify them just by hearing sounds. It aims to help kids understand music before learning to read music. It also creatively uses color-coded stickers with animal graphics placed on the keyboard.
This book will teach your kid to play songs faster before he even starts to read music sheets. Developing this skill paves the way for learning other musical instruments as well. Learning music by the ear is a great skill for making music— the reason why this book exists.
Conclusion
Now that you have the idea of the best piano books for kids, it's time for you to reassess which book matches your kid's personality.  Is he a slow learner? Maybe Music for Little Mozarts will fit him. Does he pick up things fast? Maybe, he can start with Alfred's Basic Piano Course.
Would you like to teach him even if you don't have much experience of playing the piano? Go for the Music Tree. Do you want him to learn the basics, one by one and gradually? You can start with My First Piano Adventure's Lesson and Workbook A, then continue with Lesson and Workbooks B & C. Now, if you want him to understand music by heart, go for Note-making for Piano.
Every piano book in this list has its strengths. All it takes is to know your kid, make sure he is ready for it, and well, give him the support he needs.